I have been trying to photograph the kittens who were dropped off at our home this Summer. They are very shy. Today, I had some luck with two of them. I fed them early (because Alex had show choir practice at 7am). When I went out to grab their food tray, two of the 3 were sleeping. When I came closer, they decided I was harmless & let me photograph them. Wish the tiger striped one was around -- if it was, it was hidden!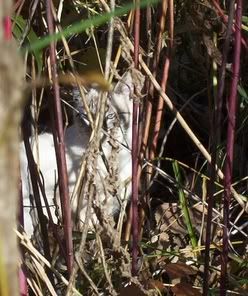 This is the shy siamese mix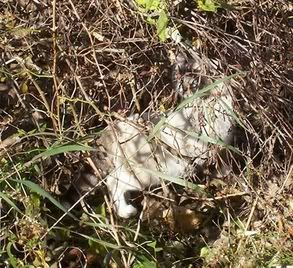 This is the bold siamese/mix
Good thing this camera has a close-up button! They were not very close to me. Both of these kittens are easy to spot as they have a lot of white fur. Blue eyes. Their faces are grey-blue. Their tails are tiger stripe. Their legs have a grey/white stripe. The tiger-stipe is very beautiful with white paws.

Barbara: These kittens were so small when they arrived (must have been July). We have been feeding them 2x/day & cannot get near them. DH gets closer to them than I. The Mom-cat is long gone as is one all-black kitten. We see the white ones (because of their fur color) more often than the tiger stripe one.