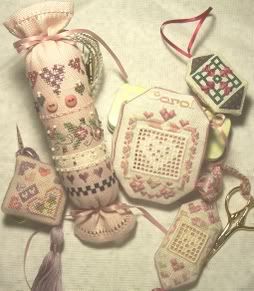 Pictured: Drawn Thread
Heart Throb
freebie,
Folk Heart
Needleroll by Shep Bush, a gift from Bernie W --The Nutmeg Needle, A-Mazing Hearts (Christmas Ornaments 2002 magazine), Needlebook & fob
Heart's Desire
Needlecase & Scissors Fob Of Female Worth.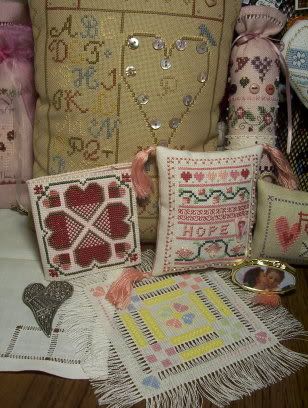 Yes, forgot to list this in the other picture. These are Homespun Elegance
Button Heart
(stitched by my Mom), needlebook is a Prairie Schooler (I think - I lost this pattern),
Hope Sampler Accent
by Periwinkle Promises, Drawn Thread Mat
Gentle Spirit
by Emie Bishop. The small box with kissing cherubs is a sewing kit & the silver pin was a gift from DH a couple years ago.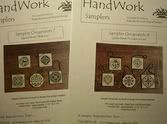 Aren't these neat?
Sampler Ornaments
by Handwork (I have #7 & #8)... Maybe would use some sort of dk red instead of the black fibers. I think I must have a couple freebie Workbasket designs around here someplace.
I finished stitching Tin Pin Heart. Not sure how to mount it into the tin!! It is stitched over one thread & didn't take very long. (picture tomorrow?)
Thought of the Day: It takes about 45 min to drive to the nearest LNS .... it takes a few steps to enter my CLOSET ... and, I like everything I've already bought : )