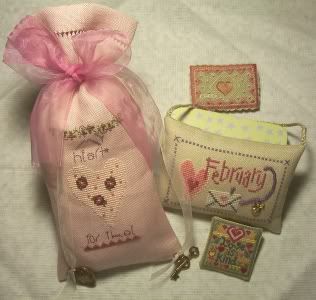 Pictured above are: Shep Bush
Treat Bag
; Lizzie Kate
Feb FlipIt
; Name tag (pattern from a magazine); & Love is Kind pin ...from Mary Garry's Sewing Cabin pattern.
Seasonal Mementos II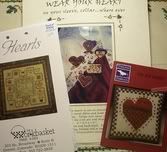 More stash! WOOT! I bought the Workbasket
Hearts
for the Pennsylvania Dutch motifs -- the sampler is really very large ... I thought they'd be cute done as single pincushions or something. The other two patterns (Of Female Worth
Wear Your Heart
& Twisted Threads
Tin Pin Heart
) are for PINS .... PINS .... PINS.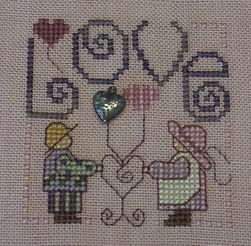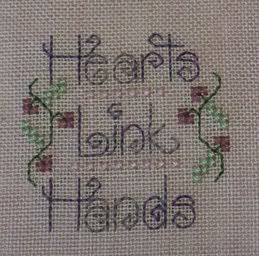 WTF: Shep Bush Fob -- Aren't heart strings cute? Was supposed to be a scissors fob & I thought too large ... was thinking of making two small pillows out of these designs.
Love Scissor Fob
Update: This is a close-up photo of the pin: