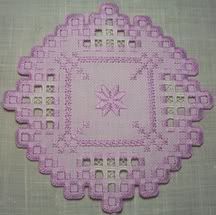 Look what came in the mail?
Cathy
sent this exquisite hardanger piece! The perfect smyrna cross, excellent kloster blocks, delicate dove's eye, detail on the edge, beautiful color (lilac/pink) are spectacular & surpass anything I could ever accomplish! Thank You so much!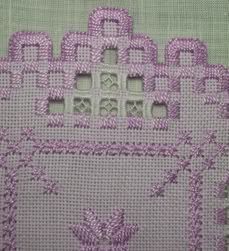 A close-up to showcase Cathy's skills. The edge is beautiful as all the 'corners' are rounded. Totally Awesome.
And, look what else was in my P.O.Box ...
Chelle
sent some Homespun Elegance,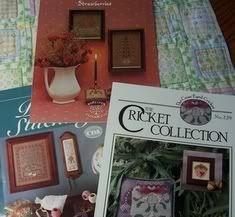 Cross-Eyed Cricket, DMC & freebie designs. I'm gobsmacked. I'm grateful! NINE new patterns. As Chelle says, "I'm so spoiled, I stink!!" Thank you - Thank You - Thanks a heap : )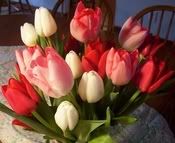 A delivery truck came to the door ... very rare event ... DH sent me tulips from
Organic Bouquet
. Not only are the flowers wonderful on the table, the mauve box is going to house my scroll rods!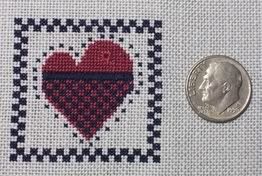 I used Anchor 152 (navy) + DMC 221 (dk red) for my
Tin Pin Heart
. The temperature soared to 53 degrees -- bright & sunny day. It was just too nice to be indoors. Didn't get it mounted into the tin (yet).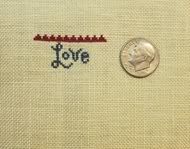 Launched the
BOAF's Love
. Did change the fibers from Sampler Threads to Floss. Looking forward to putting in more stitches today as it is back to usual Winter weather -- overcast, temperatures falling, forecast of rain-sleet-snow.