I received a wonderful surprise in the mail from
Myrna
: ) The pattern, linen, material (for lining), button & fibers to make a scissor pocket!! I was thrilled & went straight to JoAnn Fabrics for the matching scissors. Found them ON SALE ... Yippie : ) Thank you
Myrna
for making my day special! (Myrna has Xanga & Blogger accounts)
Aren't the colors unique? One is called Red Dust & the other is Nullabor. Awesome combination.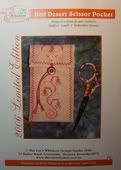 This is The Cat's Whiskers Design Studio: 2006 Limited Edition
Red Desert Scissor Pocket
. This was designed to house Jo-Ann's exclusive Ginghers "Lanell" 4" Embroidery Scissors. I cannot wait to stitch up these beautiful motifs & finishing into a scissor pocket.
Myrna, you know me so well : ) I cannot thank you enough!