How about this project?
Last Tuesday, our son, Nicholas, spotted a "kit" at hobby lobby. He decided on the spot that he wanted to learn how to stitch on evenweave. I'm like ok .... and suggested a smaller kit ... a learning kit. He would not have it. It was THAT kit or he'd stick with knitting (and he is a fine scarf knitter - IMO)
Once home, I got out some linen scraps and floss. Within a few minutes he got the hang of it. He had very few questions. Fast forward to today ... look at his progress: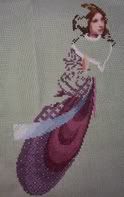 Lavender & Lace "Fairy Dreams" by Marilyn Leavitt-Imblum c.1996, Told in a Garden. (LL-41) Can you tell in this photo he did the face over-one? I'm so proud of him.