Received the March issue of NeedleArts with Lesson Six (Row 18 + Row 24) & Lesson Seven (Row 19 + Row 23).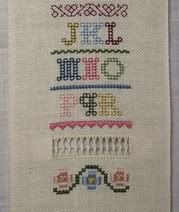 I finished the last two rows (Lesson 6/Row 18 + Lesson7/Row 19) last night. This Mystery Sampler is really wonderful to stitch.
Thank you for your comments regarding Nicholas and his L&L project. In the past Nicholas has worked on Mill Hill perforated paper projects and aida cloth -- he did a nice cross eyed cricket on aida. Now that he is on evenweave -- I may have to watch my stash ; ) He will be 16 on April 25th (next month). Nicholas is an avid reader AND enjoys playing trombone in the Jazz Band, Pep Band, & Marching Band. He recently learned how to knit scarves -- several students got together after school & were taught by their French Teacher.
Our other son, Alexander is 13 and enjoys Drama Club, Radio Club, Show Choir & Robotics Club. He is rehearsing for "Schoolhouse Rock" -- I forget what part he has. Alexander stitches on aida once in awhile and has made several Mill Hill perforated paper projects. Currently, he is working on a canvas piece - it is a zipper pouch. If I could walk into his room, I'd take a picture of HIS progress, too. Over his Spring Break, he wants me to do the finishing on his last HIH project -- it is hidden in his bedroom someplace.
In order to keep peace in our household, I make sure the common areas of the house are tidy & just keep their bedroom doors shut. Teenagers have messy rooms. It goes with the territory.