Since Tuesday, Nicholas worked on the hair & collar/sleeve: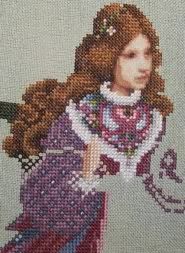 As of this morning: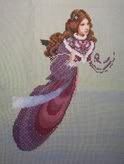 (Nicholas tells me he does not have enough of the mauve braid to complete the other sleeve. I told him to keep working & I'll find the braid!!)
This is his Cross-eyed cricket project (worked on Aida):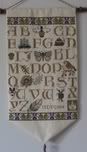 I found Alexander's stitching & I hope to get that finished for him today. He was going to finish it himself; however, I want him to focus on his homework!! I'll be taking Tori back to college on Sunday (Alex wants to ride along) leaving DH & Nicholas in charge ...
Stitch well -- enjoy the week-end : )