Thanks for asking. This is a progress picture -- Stitching by Nicholas: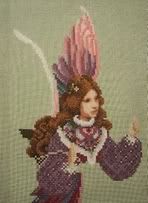 I need to find the 007 Kreinik he needs. I have not been to the LNS. Did manage a trip to Hobby Lobby -- Alex was home from school with a cold. He fell asleep, so I went shopping!! Got some floss & stuff. Not a budget buster.
While browsing blogs this a.m., I came across a couple wonderful mail art exchange pieces. Check out
Bea's
envelope -- stitched by
Chiara
. Plus, Chiara has an envelope (on her blog) stitched by Blinne. These are so creative. I enjoy seeing all the exchanges : )
Our
NANI EGA chapter
is sponsoring a Mail Art Workshop on May 6th. I signed up : ) I'm looking forward to getting together with stitchers & creating an envelope. I found a nice on-line
article
about NANI's Camp Quality outreach program (& pictures). I think there might be an article in the next issue of NeedleArts magazine, too.