Today's "Stitching Blogger's Question" was suggested by Cheryl and is:
Have you ever just quit a project while in the midst of it? (We're not referring to UFOs here, rather projects that you know that you'll never work on again.) Why? What did you do with it - throw it out, give it away, put it away?

I have taken a couple workshops & courses to learn techniques. I wanted the teacher's instruction, detailed directions, and hands-on advice. Examples:
-workshops on Japanese Embroidery & Hedebo (both very good workshops; however, I realized the needlework wasn't what I wanted to pursue further or finish the samplers.
-EGA Course in Drawn Thread -- withdrawing linen threads, hemstitching & embellishing. I learned a lot. Just wasn't interested in finishing the cross stitch bands on the sampler; Did do all the drawn thread bands.
-Instruction in Crazy Quilting -- well, just wasn't what I wanted to do.
None of these are finished projects -- I learned how, kept the detailed instructions & the projects have enough stitching done on them for practice ; ) I put them in a box in my closet & when I need to use any of these techniques, I have them on hand to either review the directions .... or put in a few more beginner stitches.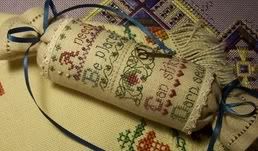 While looking for an ornament, I was happy to come across my Shep Bush Stitcher's Roll. After I stitched this kit, I put it in a special box, and had it stored in my cedar chest .... It is such a pretty needleroll kit & fun to stitch. will keep it in my creative corner for awhile.