re my name ... My middle name Lee is my maternal Grandmother's Monogram (LEE - Lelia Evelyn E------). My Grandmother passed away 3 weeks after my birth. At that time, my older brother started calling me Lelia or Little Lee. I didn't use my first name until much later in life (when I was no longer "Little"). When I wanted to start a stitching web log -- I noticed there was a Carol (Garden of Stitches) and a Lee (Lake Stitcher). Thus, I chose my more formal name. I'm comfortable with all my names & when in doubt "GF" works : )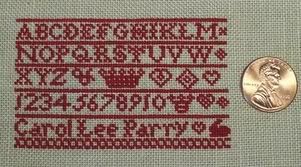 c.1991
The Scarlet Letter
N. Hinde 1778 - A Miniature Sampler. What a joy ; ) I used AVAS 945 Red Silk on 32 ct Antique Ivory Linen. 2.75" W x 1.75" H (apx) The rabbit motif was from Brenda Keyes Alphabets Motifs & Borders c.1999, published by The Sampler Company.
I think I'd like to try another miniature soon. I like the Mini Flower Basket from EGA. (www.egausa.org under merchandise). Another one in my stash is
"Better Late Than Never" Sampler
(Circa 1820-1830) c.2001 by Eileen J. Bennett for The Sampler House. Plus, who can resist the wonderful selections at The Scarlet Letter and Threads Thru Time -- so many miniature sampler patterns to choose from! Working over one thread is a challenge & I take a lot of breaks! I try to stitch for about an hour & then put it aside for another day.
c.2004 Mill Hill. Charmed Stocking MHCS43 St. Nick Stocking. Stitched by Alexander for Grammy K (my Mom). Grammy should receive this very soon!