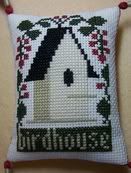 This was my FIRST Prairie Schooler project. I visited a needlework shop & was given a complimentary pattern. Went home & didn't stop until it was DONE. (Summer of 1998)


This is a Mystery Sampler by Jana P. Kerr.
Permission is granted for EGA, ANG, & other stitching groups to publish the Mystery Sampler in their newsletters or make copies for their members. Thank you Jana P. Kerr : ) There are 15 parts. So far, TWO parts have been published in NeedleArts Magazine (The Embroiderers' Guild of America, Inc.). The various parts will showcase different types of needlework -- part I marking stitches / cross stitches + part II double running stitch. I am using Anchor floss on linen banding. I enjoy working on this & look forward to viewing other EGA, ANG, & other stitching groups take on this project.
I received my quarterly magazine & read the whole thing (cover to cover). The current EGA President, Arminda Taylor is ending her term. In her message to members, she quoted Sandra Day O'Connor, U.S. Supreme Court Justice: "We don't accomplish anything in this world alone ... and whatever happens is the result of the whole tapestry of one's life and all the weavings of individual threads from one to another that creates something." Another quote from Flavia: "Lives are tapestries woven from our experiences by the weavers of time in a pattern we cannot see."
Stitch well today.