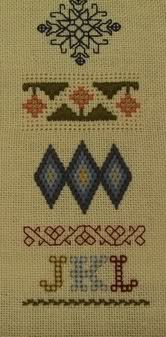 Received more of the Mystery Sampler: lessons 3,4,5 of 15. I finished Lesson 3&4 + still working on Lesson V (four-sided stitch, letters J-R.) They are really fun to stitch. The dividing bands are in herringbone, reversible cross stitch & satin stitches

Mystery Sampler .... so far .... Designer is Jana P. Kerr. Pattern is being published in NeedleArts magazine.
c.1998 C.A.Zittel, The Drawn Thread.
Linen & Lace
110x110. Stitched on 32count linen with needlepoint silks. (holiday gift!!!) If the weather cooperates, I'm going to House of Stitches for a Sudberry Box -- ooooh this will be soooo pretty.