I don't usually use aida cloth. When I use aida, it is because the material has a lot of strenght & makes a great needlebook for my stitching bags. You know, toss in a needlebook with the 'to go' stuff. Sunday, I continued with some freebie patterns, Fall theme, to share at the Craft School -- Wednesday.
This is such a cutie. 2-strands on small grey aida fabric. 20Wx26H - took me 1 hr & 20 min. Petite Acorn c.2001 Vicki Hastings of The Cross-Eyed Cricket, Inc. I don't know if it is on-line anywhere. For this freebie, you might have to ask at the LNS.
Added the cat. I'm thrilled this came out so ... meow! It is done with 3 strands of floss (boo) on hmmm 14 ct aida? I chose simple dmc floss colors b/c it will be passed around a lot during the craft school. There is a border of BSing which I skipped. I think this is 32Wx40H. Fall c.2000 Sandra Sullivan of Homespun Eleganse, Ltd. This graph/picture is on-line. See previous posts for web link.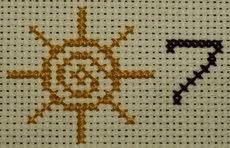 Started this Bent Creek - Called "One Dozen" c.1996. Maybe at the LNS. This took 40 minutes to stitch. Hard to believe these take that long. I'll bet Becky & Carol are laughing their heads off -- those two stitch like Superman -- faster than the speed of light .... or some such thing. Today, I'm planning to finish up the Bent Creek & will visit Melody tomorrow to do whatever needs to be done in preparation for Craft School. (like cut floss, aida, etc)