Finished another square on
Sampler Tabletopper
designed by Claudia Dutcher of Dutch Treat Designs.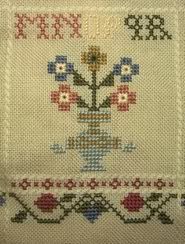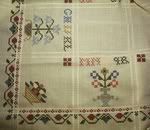 I've got the border done on the fourth square -- need to add the basket & then finish the final square. Should be so much fun to add the herringbone & eyelet stitches (in blue) inbetween the squares.
I received the Premium Booklet for the Porter County Fair (July 29-29). I've got to go thru my stuff and see what I can enter. I have some WTF items & some WIPs close to being finished. Deadlines can be helpful to get my needles in gear : ) The categories seem similar to previous years. I'd like to get the Tabletopper entered -- maybe DT Sanctuary. I try to enter exhibits into both Porter County and Lake County fairs. Lake County has a thick premium booklet & better categories!! This Fall, our EGA chapter will sponsor an exhibit (no prizes) & I'd like to put some items on display. Always a good time to share needlework among friends.
Nicholas said "thanks" for all his encouraging comments. He is on Spring Break this week & plans to get the wings done. Alex is improved ... this cold is dragging him down. He should be working on the set (for the Spring Play) once he is over this dratted cold.