Sunday
UPDATE:
Jenna
: That is a good question/comment. For the buttons I decorated -- there is a pin in the back. I wear them with sweaters & usually receive compliments. Some of my NANI GF's wore them on their coat collars. As for the Beaded Button Tutorial - those buttons look like they are functional. Beautiful addition to crazy quilts, bags, sweaters, etc. If I was a person who enjoyed knitting (or crochet?) -- that would be a button of choice for a garment or bag (closure). I thought the button would be a totally awesome accent on a stitching doo-thingie ... like a necessaire or pocket or something stitchie. Instead of a boring button -- use a covered button with left-over beads. I will have to wait for a sale on the covered button stuff & plan to give this a try. After the laundry/ironing & fetching Nicholas from work ... I'm going to stitch a house on the Game Board.
Found a link from
Sharon's blog
on
Beaded Button Tutorial
. I've never thought to decorate buttons like these -- I want to try this!
When I learned how to decorate buttons, I used
these directions
from Judy Hendrix. Results: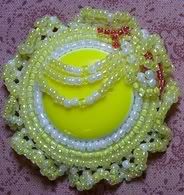 There is a story behind these yellow buttons ... some of my NANI GF's know they like to misplace themselves & go on journeys!! LOL.