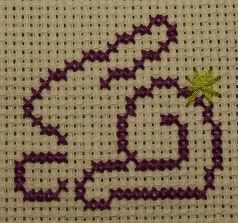 Bent Creek. Hare Lines freebie 36x36. What a cutie bunny. This was one of the models for Craft School.

Today's "Stitching Blogger's Question" was suggested by Outi (http://www.livejournal.com/users/snowprincipessa/) and is:
How do you `non-hoopists' who use a rotation system handle it (as itseems to be lot easier if you are in good terms with hoop)? Do youhave several scroll frames? Do you use Q-snaps or maybe somethingcompletely different? Or do you just have one or two big projects andothers are small enough to be kept in hand while stitching?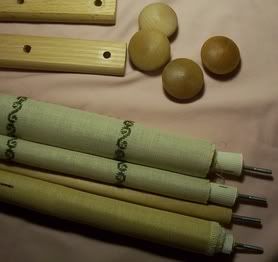 I prefer a scroll frame to q-snaps. I started out with a 14" scroll frame set -- got hooked on them ever since. Since scroll bars, side bars, and knobs are sold separately --I don't have SEVERAL scroll frames. I own a lot of scroll bar sets in varying lengths. I keep my project on the scroll bar until it is done. As for the side bar and knobs -- I have only a couple sets. The side bars and knobs can be used on all the scroll bars. It is really nice to roll up projects & store them "fold free" while not working on them.

Today's "Stitching Blogger's Question" was suggested by Bea (
http://beastitching.blogspot.com
") and is:
When you have almost finished a pattern and start thinking about the next one to stitch, how do you select it? (a list, most recent purchase, etc.)
lol! The catch to this question is "when you have almost finished" .... I enjoy stitching and reading. I don't think about what I'm going to do with it - or why I do it. I just stitch because I like it.
Unfortunately, I had an accumulation of stuff in the closet & when asked, couldn't pull out one thing that I finished! I'd pull out something and just work on it a little & then put it away. Seemed a mountain of bags that kept falling over, every time I opened my closet!
Back in January (2005), I tried to get organized & vowed to do as many happy dances as possible. I've managed to finish up a lot of WIPs over the year. About a month ago I made out some real lists which I'm sort of following. In addition to the WIP list -- I have a separate list of SALs or EGA chapter stitching. I'm planning to continue with the WIP/MIOM projects until the end of this month -- then, will crank out a couple of gifts.

The permalink to this post is:
http://blondelibrarian.net/stitching/archives/2005/10/future-projects/