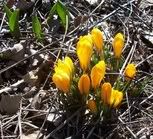 Photo taken by DH from our backyard garden. Yellow makes me cheerful!
And, in response to a challenge from
Kim
: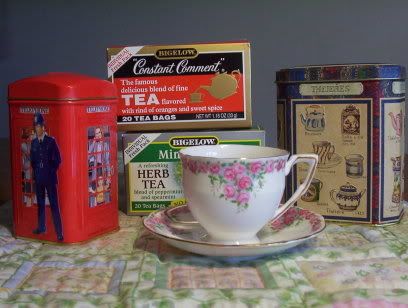 I'm currently a tea drinker. My favorite is a blend of Constant Comment & Mint. Being allergic to most berries, I have to be really careful of tea -- lots of tea list elderberries, etc. for flavorings. I have found some nice Ginger-Peach, Apricot, Darjeeling, English Breakfast & Jasmine blends that I enjoy with Mint or Lemon. I tried some green tea flavors, & like a ginseng blend. Today, when I go shopping, I'm going to pick up some cinnamon ... What blends of tea do you like?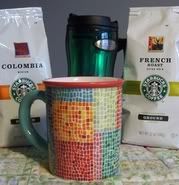 These are my retired coffee mugs -- my "on the go" mug + "around the house" mug. Luckily, DH still enjoys his morning brew!
In December, I gave up drinking coffee. It seemed a habit needing to be broken--& I still crave it all the time. Tea was a good option; however, took awhile to find something I enjoyed!! In addition to the giving up coffee, I cut down & then, swore off all desserts. Thus far, 11 lb. weight loss without coffee & desserts. Need to add in some walking & hope to be a smaller "me" by Summer. Keeping my fingers crossed & wish me luck!!